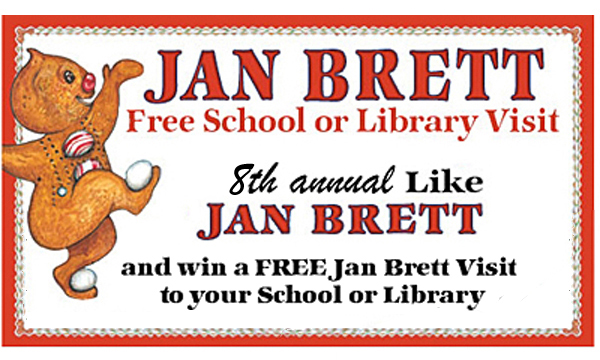 The school or library that has the most parents, teachers, friends, or supporters who enter the contest will win a free school or library visit from Jan in the 2018-2019 school year.  Contest ends April 2, 2018.  2nd to 10th prizes of 10 Jan Brett books.   11th to 100th prize of a signed Jan Brett Poster.     Please enter your name and the information of the school or library you would like to win a free Jan Brett visit.  One email address entry per person.  Duplicate email addresses will be removed.  All emails will be verified before the winning entry is announced.  If you are under the age of 13, please use your parent's email address.
Click on the link below or copy and paste it in the browser.  Remember that only one vote per email.  We are currently 76 with 28 votes.  Spread the word!!!!!
http://www.janbrett.com/contest_2018/2018_free_school_or_library_visit.htm
Join us For Grandparent's Morning in the Drew Library
When:  Wednesday, September 27, 2018
Time:  8:00 a.m. to 9:00 a.m.
Where:  Drew's Library, second floor
Come and read with your grandchildren and grandparents.  Enjoy a craft together.  Take a picture of the family.
Celebrate Grandparents and Reading together!!!!!!
Coming Soon!!!!
Coming in October is the Book Reading Program for Kindergarten through Fifth Grade!!!!  Students will be asked to read books and fill out a calendar of reading.
They must turn in the reading calendar to Mrs. Black.  If a parent is concerned with the child losing it, they may turn it in to the librarians before school.
Once the librarians have received the calendar, the student will receive a coupon for a personal pan pizza.
Please be aware, that the students will only receive one per month.  If they loose the coupon, no matter what, they can not receive another one.  This is the company's rules.  Please remind the students to be very careful and not to loose it.  The coupon is good for one month.
Each month the student completes the calendar, they will receive a coupon for a pizza.
The coupon can be redeemed at any Pizza Hut.
If you have any questions, please contact Mrs. Black at dorasue.black@apsva.us